Categories:
Jewelry & Watches
Summer occasion, MCM brand image of classic blend of classic elements with modern design aesthetics, presenting the new eyewear collection again. With excellent technology and advanced technology to create high-quality eyewear collection, more innovative design and unique style of the unexpected highlights the brand's unique creative spirit.
Navy blue retro round glasses shooting Bazaar jewelry fashion large
Adhering to the retro style and modern appearance of the perfect fusion of bold section metal frame glasses lens covered with MCM classic pattern. Double metal frame to make the appearance more perfect. Design with light bright gold, blue and bright gold and copper.
Wine red cat eye sunglasses
Coloring balance each cat eye frame with the classic distinctive achievements of the bold avant-garde style. Metal trim lens combination decorated with metal rivet detail of the frame, and metal brand plaque decorated with temples to each other. Series with black, tortoiseshell and red wine.
Supermodel Erin Heat at MCM boutiques try surreal translucent frame sunglasses
Lightweight and translucent colored implementing brand fashion concept and design aesthetics, the avant-garde of the frame shape with smooth lines and metal rivets highlight industrial design elements of fun. Series with gold satin with gray satin and gold with light gold.
Diamond Rivet large frame sunglasses
Series with elegant diamond shape for the design blueprint, the unique triangular design clear and neatly decorated in the mirror leg beams and decorated with metal logo. Frame in front of the semi-metal rivet diamond-shaped frame for the King of crude to create a unique fashion style. Series with black, tortoiseshell, wine red, light brown and green.
Classic frame design, with geometric mirror leg rivets and small metal diamond as a decoration, to create a brand well-known masterpiece. Inspired by the iconic MCM backpack series, brand logo placed in the avant-garde designs temples. Series with black, tortoiseshell, wine red, blue and pink nude.
Inspired by MCM classic leather series, the quality of its printed sheet mirror leg special brand classic pattern. Wide rectangular frame with golden brass nameplate next to the temple, consistent with the nameplate on the MCM handbag. Series with matte black, light rose gold and matte brown with a golden yellow, respectively.
Both bold and avant-garde and classic, retro brow with round mirror frame, and stylish metal trim, front frame decorated with diamond shaped rivets two and a half, and the mirror leg of MCM metal nameplate embraced each other. Series with bright gold with a black, light gold with tortoiseshell, horn with a bright golden brown, light gray-blue and golden horns with bright gold with horns khaki.
A sleek sophisticated flight details of classic metal glasses more Ambilight. Easy to fold its lightweight frame structure, unique. MCM logo subtly placed in the upper right corner of the lens, glasses with matt black, glossy pink gold, bright gold and black chrome-plated.
Tags: sunglasses MCM
comnum(0) tbcount(0) tbcount(289)
Categories:
Jewelry & Watches
Rihanna wears sunglasses from upcoming Dior collaboration
A year and a half after being named a brand ambassador for Dior, singer Rihanna has collaborated with the French fashion house once again for a new range of sunglasses. Called 'Rihanna', the shades will be sold solely at Dior stores in June, according to WWD. For the official promotional images, who better but Rihanna herself to model the futuristic, visor inspired designs? Jean-Baptiste Mondino photographs the pop star modeling the collection while wearing a form-fitting bodysuit. In all, there are six colors with the option of a gold-plated version.
RIHANNA – DIOR SUNGLASSES COLLABORATION
Rihanna rocks one-piece and sunglasses from her Dior collaboration
Rihanna wears purple frames from Dior collaboration
Rihanna and Dior's sunglasses collection hits stores in June 2016
Rihanna x Dior sunglasses
Rihanna x Dior sunglasses
Images via WWD
FLASHBACK: RIHANNA – DIOR 'SECRET GARDEN' IV CAMPAIGN
Rihanna poses in Dior 'Secret Garden' film
Last year, the world got its first glimpse at Rihanna's Dior ambassadorship with the release of 'Secret Garden IV'. The Barbadian beauty posed in Versailles for the campaign and film featuring her in dramatic looks captured by Steven Klein.
Rihanna is sultry for Dior's 2015 Secret Garden campaign.
Rihanna is sultry for Dior's 2015 Secret Garden campaign.
Tags: Dior sunglasses
comnum(0) tbcount(0) tbcount(274)
Categories:
Jewelry & Watches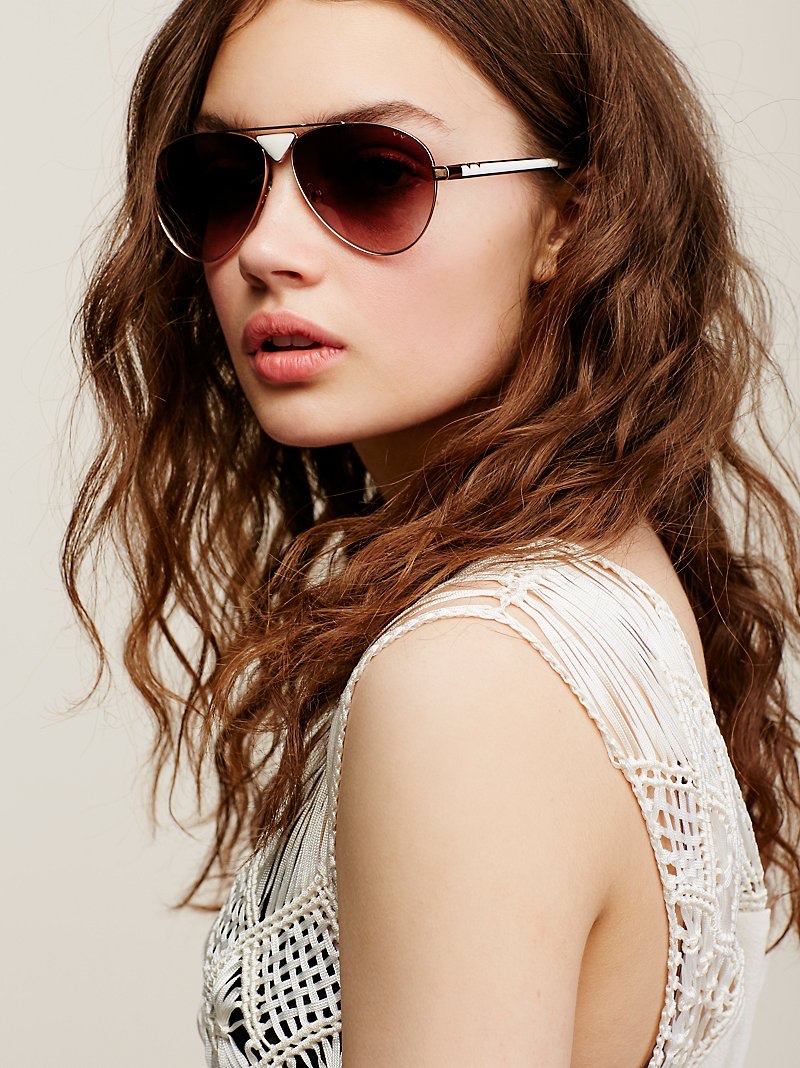 Free People Funk Soul Aviator Sunglasses
Step out this summer in style with a pair of aviator sunglasses. The classic shape is a no brainer when it comes to picking that perfect frame silhouette, but what if you want something a little more updated? No worries, we rounded up eight aviator styles with modern touches. From mirrored lenses to rose gold coloring and metal accents, check out more cool aviator sunglasses below.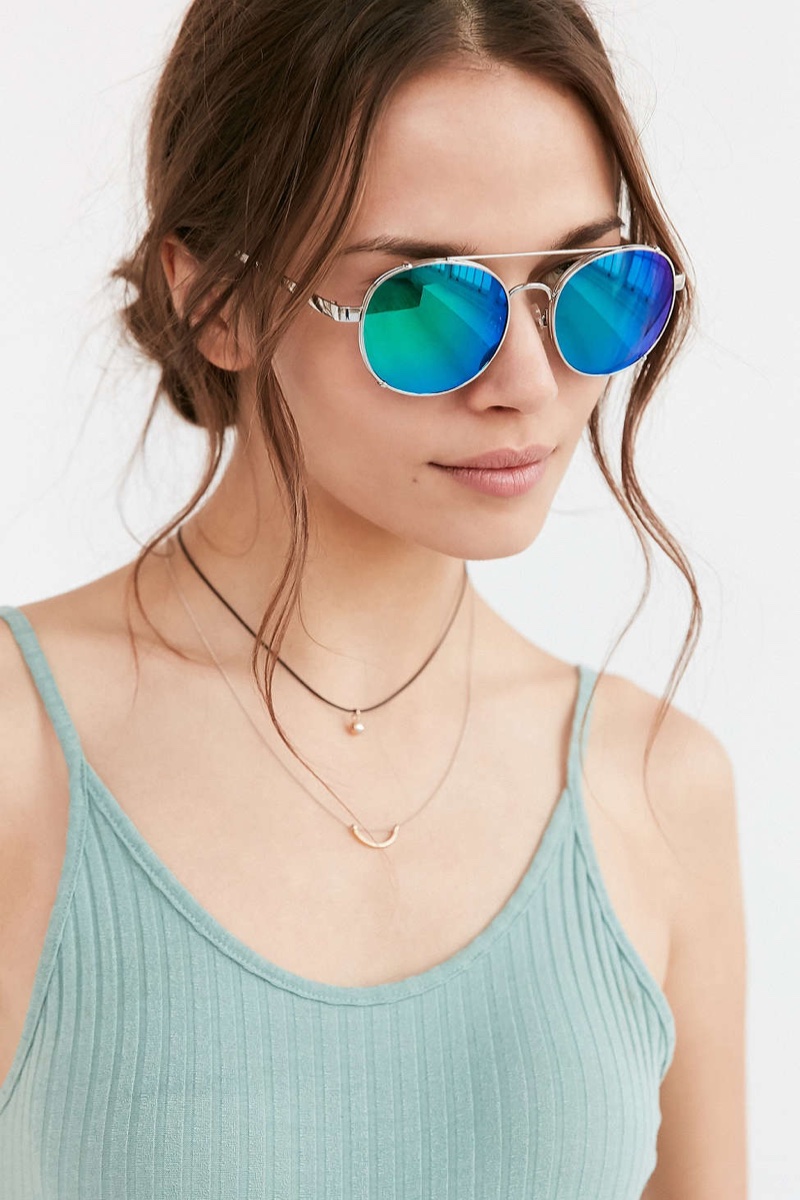 Urban Outfitters Beach Babe Rounded Aviator Sunglasses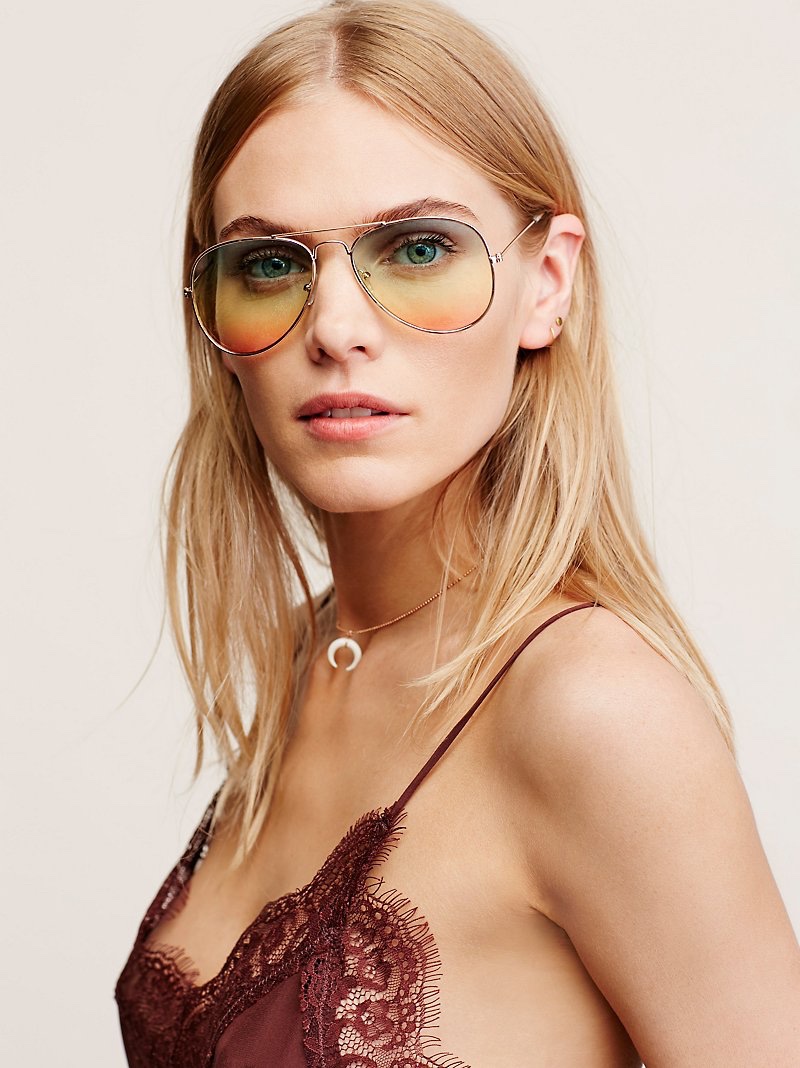 Free People Endless Summer Aviator Sunglasses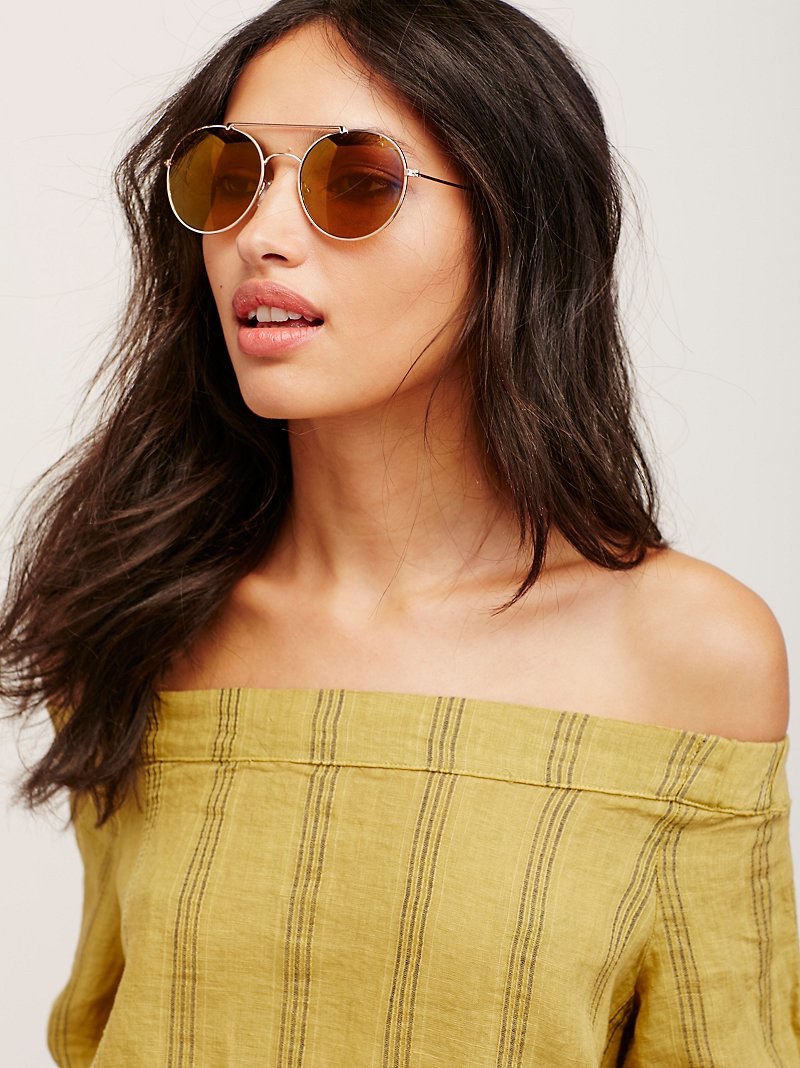 Free People Neptune Metal Aviator Sunglasses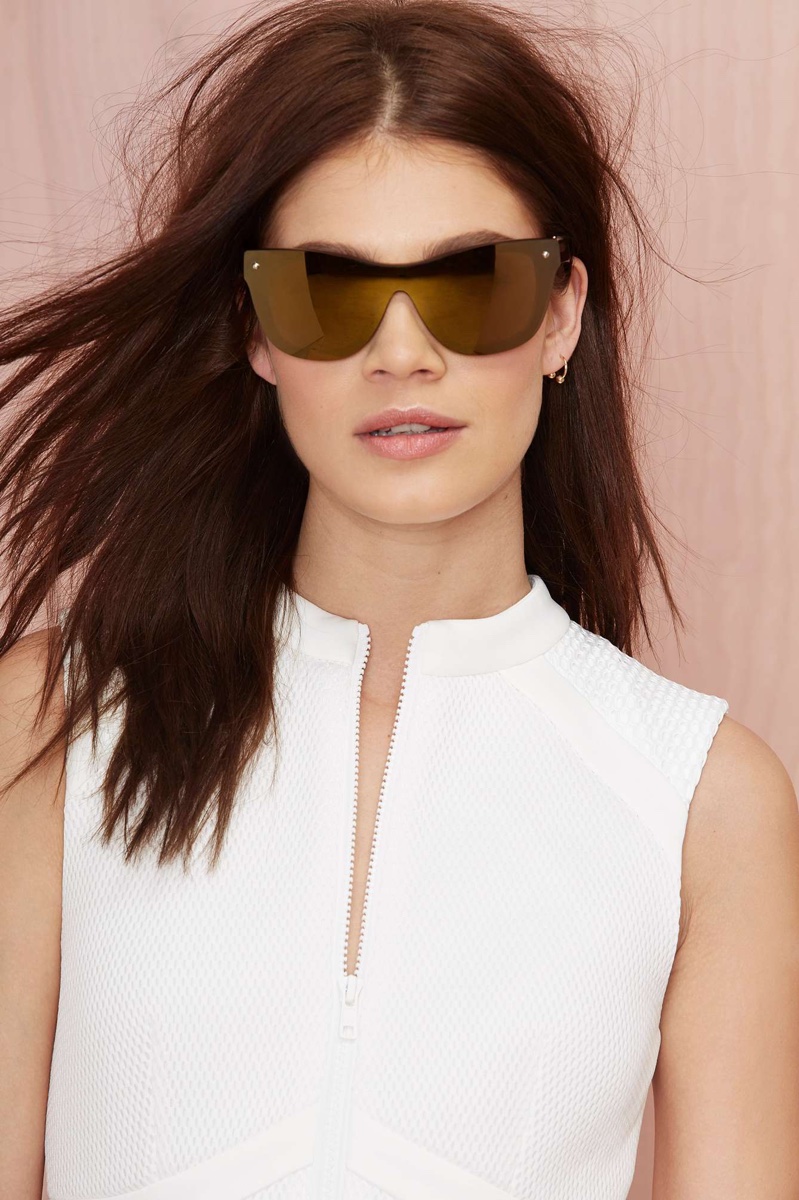 Phillip Lim x Linda Farrow Shield Sunglasses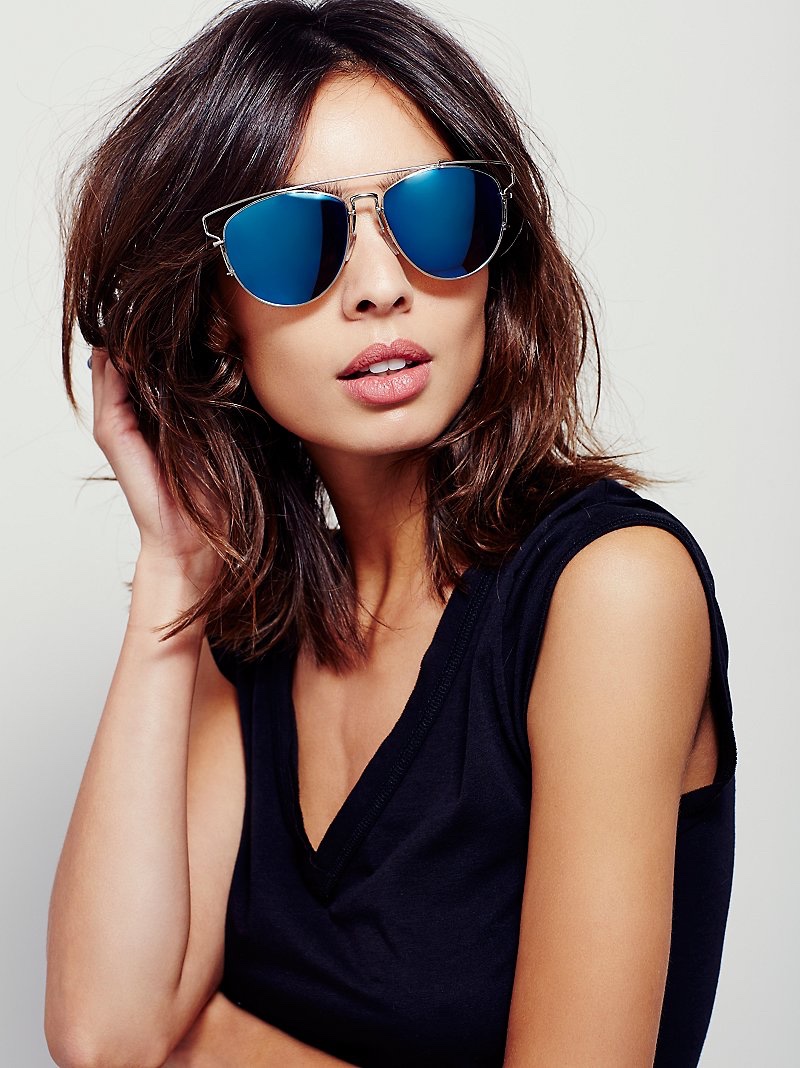 Free People Top Down Aviator Sunglasses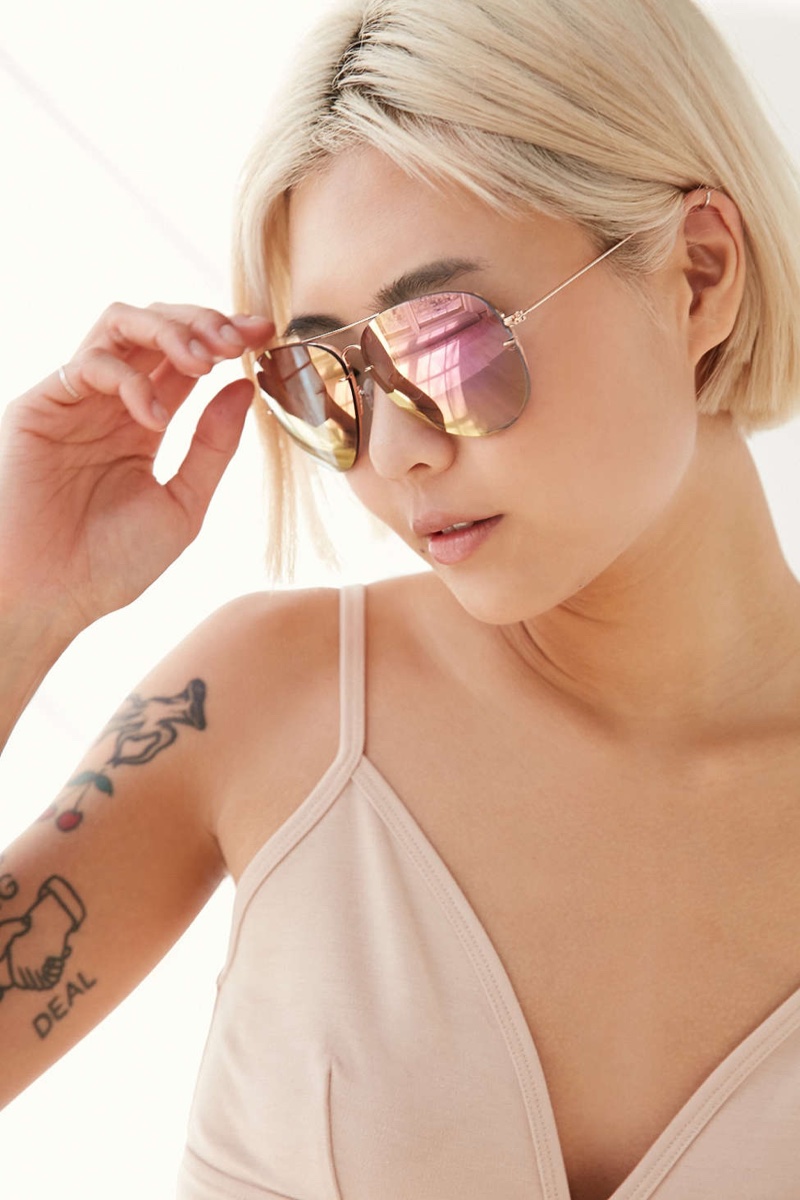 Urban Outfitters Miami Flash Aviator Sunglasses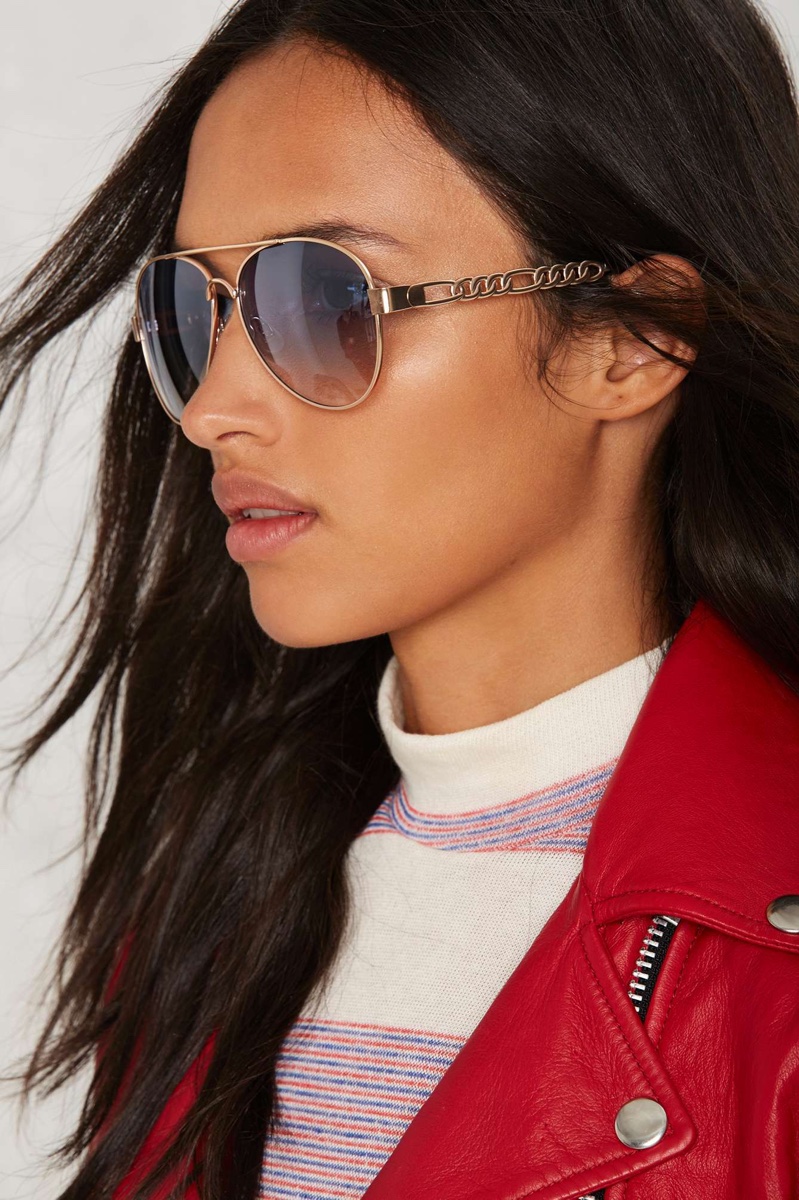 Nasty Gal Who's That Sky Aviator Shades
Tags: sunglasses
comnum(0) tbcount(0) tbcount(253)
Categories:
Jewelry & Watches
Tom Ford Rounded Metal Sunglasses, Cedric Charlier Strapless Peplum Dress
A perfect way to bring some personality to your outfit is with a standout pair of sunglasses. Saks Fifth Avenue provides some inspiration with a new trend guide called 'Sunset BLVD.', which focuses on the spring-summer 2016 season's most statement making designer shades. From Dolce & Gabbana's printed cat eye sunglassesto Gucci's glittered shades, these glasses are sure to be a conversation starter.
Gucci Oversized Glitter Sunglasses
Roberto Cavalli Crystal Embellished Metal Aviator Sunglasses, Roberto Cavalli Beaded Dress
Dolce & Gabbana Printed Cat Eye Sunglasses, Dolce & Gabbana Fitted Crepe Dress
Dior Aviator Sunglasses, Mary Katrantzou Printed Dress
Ray-Ban Gatsby Mirrored Round Sunglasses
Tags: sunglasses
comnum(0) tbcount(0) tbcount(281)
Categories:
Jewelry & Watches
Introducing the Chanel Shield Runway Sunglasses. Chanel's latest sunglasses was one of the hottest accessories in the Spring/Summer 2016 runway show, where it was first presented. The Shield Runway Sunglasses comes in a silver metal frame, while the mirror lenses are available in three colors, Grey, Blue and Red. It has 100% UVA and UVB Protection CE. The sunglasses are an updated version of classic aviators, as it features a visor style with a futuristic design.
Style & Price
| Style | |
| --- | --- |
| Chanel Shield Runway Sunglasses | |
Gallery
Style Inspiration
Tags: Chanel sunglasses
comnum(0) tbcount(0) tbcount(398)
Categories:
Jewelry & Watches
Hats off to Dior once again! The premium brand keeps up delighting the audience to bits albeit without yet any appropriate candidate to step into the shoes of the brand's last creative director Raf Simons. Instead Dior's creative team is drawing a bead on bringing to the table celebrity-oriented campaigns and collaborations. Rihanna has yet again united her Barbadian Bad Gal essence with the luxury brand to launch a collection of new futuristic all-around gorgeous sunglasses dubbed simply "Rihanna".
As WWD reports, Dior's Rihanna sunglasses collection will come into season exclusively at Dior stores starting from early June and will feature only one frame design in six color variations. The silver, pink, blue, green and red versions will come with a price tag of $840, while the 24-karat gold-plated one will retail a little bit higher – for $1,950.
This kind of flat edgy frame hit upon RiRi not at this point. She has always been obsessed with that futuristic eyewear on La Forge from "Star Trek" and as she herself remarked, when she was shown all the materials she could play with, they all surprisingly came together to form that long-cherished design.
"We are very pleased to partner for the second time with Rihanna," said Dior chief executive officer Sidney Toledano. "She is an artist, an entertainer, an entrepreneur, a philanthropist, and a style icon for today's generation."
Let us recall that it was last year when the Dior + Rihanna tandem kick-started with Rihanna continuing the much-buzzed-about "Secret Garden IV" – Versailles series starring in the short film shot by Steven Klein, where she was meandering through the lofty halls of the Palace of Versailles all in darkness and shining up hill and down dale with Dior sunglasses, handbags and the clothes from the Esprit Dior collection shown in Tokyo in December 2014.
And now one year later when she has already earned herself a stable place in the fashion arena via her first ever full Fenty x Puma fall 2016 collection, the collaboration with American sock and underwear brand Stance and recently also Manolo Blahnik over a new shoe line, premium house Dior chooses the very Rihanna for their first ever design project with the brand's ambassador.
Moreover, according to the brand's eyewear designer Mathieu Jamin, this is their fist experience to come together with a celebrity over a new design project, which was decidedly crowned with immense success.
"She chose all the materials," Jamin said. "We had a lot of different samples with different effect of metals. She chose all the lenses and took time to match all the colors together to see if it was right on her face. It was really important to her."
Rihanna herself described the design process being something so easily handled. It was within a single day that the brand's sunglass archives were checked, the flat futuristic design determined and shades and materials cherry-picked. Then it was a matter of weeks before the dark beauty could see the first prototype of her star-trek-inspired sunglasses.
Though the launch of Dior's Rihanna sunglasses will not be accompanied by any official campaign, Jean-Baptiste Mondino captured RiRi showing off each version of the audacious sunglasses for Dior's in-house editorial. But that's on behalf of Dior for our bait moments; RiRi's bait was even stronger when she shared her eyewear-centered photo on her Instagram account thus precisely teaching us how it is best to rock any of these cool pair of sunglasses through real life avenues.
Tags: Dior sunglasses And Rihanna
Categories

New Posts

Hot Posts

Tag Cloud