Categories:
Other Brands
Introducing the Fendi Lei Selleria Bag. This newest bag from the Fendi Selleria line is made of Cuoio Romano leather. A Boston bag, the Lei is hand-stitched and features a top handle with an adjustable and removable shoulder strap. It has a macro zip with double zipper pull. The interior includes a zip pocket and two flat pocket. The bag has the Silver Selleria plaque with an engraved serial number. The Lei is a sophisticated casual bag, perfect to use everyday.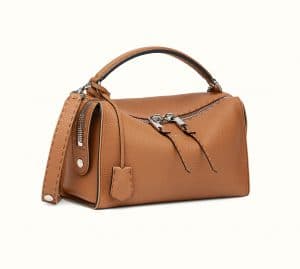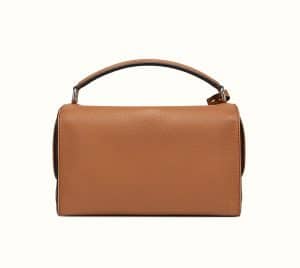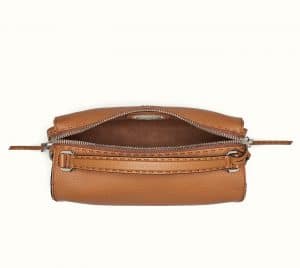 Style, Price & Size
| Style | | Size |
| --- | --- | --- |
| Fendi Lei Selleria Bag | | 11.8″ L x 6.7″ H x 5.1″ D |
| Fendi Silver Lei Selleria Bag | | |
Gallery
comnum(0) tbcount(0) tbcount(283)
Categories:
Other Brands
The Fendi Lei Selleria is not your typical purse. This handbag is so much more. It is a stylish, but casual model that has a very cool and sophisticated vibe. The Lei Selleria gives up to everything that is rigid, traditional and common in favor of a youthful and practical spirit. It is the type of purse that can be worn at the office, at the gym, at shopping, at drinks or even in a social visit without being too much or too less. It is the ideal modern bag for unconventional looks.
Even the color choice for the Fendi Lei Selleria is anything but common. The purse is manufactured from a high quality asphalt grey Roman leather that matches perfectly its sporty look. Then the style of the bag is Boston. For those who are not familiar with this style, they only need to know that this is a traveling bag or general-utility bag that is wider at the bottom and folded in the middle. Usually, the top opening is held together by the handles. Nowadays, this is a very popular shape and Fendi seems to be one of the luxury designers that adore to use it for its most iconic or new designs.
The thick Roman leather bends very nicely at its top part without making any obvious creases. The special texture of this material allows the purse to adopt its loose and casual attitude. The surface of the leather features pronounced grains that match nicely with the overall cool look of the Lei Selleria.
This Fendi model features beautiful hand-sewn stitches that were made by the brand's Italian craftsmen. Every single purse has been manually created by a skilled artisan that paid great care and attention to all the details that make this design close to perfection. On the front top part of the bag there is the Fendi name written with metallic applied letters.
The macro zipper is located at the top of the purse and it features two pull pieces that have the brand's name embossed on their surface. Speaking of metallic parts, the hardware on the Lei Selleria is entirely silver, a choice that goes splendidly with the asphalt grey leather.
The Lei Selleria comes with one top side leather handle that is ideally created for an easy grip or for carrying the purse on your hand. For increased comfort you can choose to wear it on your shoulder by adding the detachable shoulder strap.
At the inside of the purse there is a beautiful soft brownish lining and two flat pockets. On the upper part of the interior we also notice the silver Selleria plaque with engraved serial number.
Also, the end parts of the Roman leather have been finished with a blue color which accentuates the bags forms and lines.
The Fendi Lei Selleria in asphalt grey is a bag with attitude. The casual shape, the unconventional material and the casual vibe are details that appeal and fascinate. You can't stay indifferent in front of this incredibly chic and unique purse. And frankly, why should you when it has so much to offer in terms of style and grace?
Tags: leather bag Fendi Boston SELLERIA LEI Gray Roman
comnum(0) tbcount(0) tbcount(518)
Categories:
Other Brands
We know most women wish that there will be more signature bags out there that are not too feminine or too girly because they are neither one. A bag that is neither sexist but is completely androgynous is a dream bag to many but that dream is no longer such as Fendi heard your pleas with this Lei Selleria Bag.
Beautifully and lovingly handcrafted in Italy, the Lei Selleria bag is a perfection in real life. Made from the most genuine Toffee Roman leather, this Boston bag with hand-sewn stitches and hot-stamped logo is sure to make your day. It has the following features: macro zip with double zipper pull and lining with zip pocket and two flat pockets, has Selleria plaque with engraved serial number. It also comes in three different colors: Toffee, Asphalt gray, and milk white. This bag is effortlessly stylish without trying too much thus it will definitely be loved by many. Simple, understated yet snazzy nonetheless, the Lei Selleri will be the next big hit among bag lovers.
It has the following dimensions: 30 x 17 x 13 cm (Lx H x D) and comes with a steep price of $2700 USD. So come now beautiful, make this Fendi bag your newest fashion investment.
comnum(0) tbcount(0) tbcount(363)
Categories:
Other Brands
If you've been following us so far, you must have seen plenty of backpacks – with graphic print, smooth, extra small, with Teddy bear and also the elegant ones.
And in the category of the elegant ones include the Fendi Selleria Backpack.
If you REALLY need to purchase a backpack, look no further than this piece of art. You see, the Fendi Selleria Collection is quite famous; in fact it consists one of the most classic bags in the fashion world. And when you combine that with a backpack style…
The crocodile tale is amazingly creative, such a simple adjustment and it entirely changes the appearance. Have you seen a backpack with a croc tale like this before? No?
Because it's simply, it can match almost everything in your wardrobe. And besides it's very useful too for city trips or vacation. It features a large front flap, which makes the design slightly different than any other backpack out there.
Well, we're not going to say too much, because we've already talked about this topic in depth.
READ: Fendi Selleria Backpack with Crocodile Tale And Details
However, we needed you to see an insta-image to get a second opinion (in case you doubt its beauty).
comnum(0) tbcount(0) tbcount(406)
Categories:
Other Brands
They're minimal yet inspired by the iconic Selleria Bag Collection. The leather is impeccable and the traditional craftsmanship is what made the price so steep.
If you're considering the best backpack, the one that's timeless and can be carried everyday. Don't look beyond the Fendi Selleria Backpack.
Any human eye can see that this is a high-fashion bag. It's all in the details… from the hand-stitched Roman leather to the tone-on-tone crocodile tail.
Yes, I said it right… there's a crocodile tale on the side. Too delicious isn't it. So besides that it's a classic (Selleria you know), this bag is also distinguished from all other designer backpacks.
The Crocodile tale is made like it's one with the bag. It's an extension of the zipper. The bag comes with shoulder bag and breathable technical mesh back.
Now, if you're craving for this bag, you might wonder. Why is the price so high?
First, it's made from calfskin, the other parts is made from crocodile leather. The right term for this bag is luxury backpack.
Measuring 34 x 40 x 20 (L x H x D) cm, priced at €2470 euro via Fendi boutique.
Categories

New Posts

Hot Posts

Tag Cloud