Categories:
Other Brands
IMAGE: GUCCI
'Old meets new' seems to be the buzzwords of choice over at Gucci now, with more and more new bags that are infused with the old. Take the Queen Margaret for example, which to me is the perfect combination of both (and also my personal favourite as far as the Pre-Fall 2017 collection is concerned).
With the giant bee that's embellished with crystals and pearls inspired by an archive find from the 70s, along with the addition of Gucci's most iconic bamboo handles (I still get shivers down my spine whenever I recall my trip to Florence where the craftsman showed me exactly how it was curved and varnished), this variation in the form of the backpack is the best of both worlds as far as form and function are concerned.
Besides using it as a backpack, you can also tote it via its top handle, which satisfies the functional bit. Measuring some 25 cm by 23 cm, it isn't exactly a tiny bag, so fitting in most of your daily essentials won't be an issue either. Lined with a suede-like fabric, the bag itself is made up of soft quilted leather, which also means it won't be overly stiff.
Available in a full black version (shown above) that's priced at SGD3970and one more in multiple colours (SGD4360), you can check them both out now at Gucci boutiques at ION Orchard, Marina Bay Sands and Paragon.
IMAGE: GUCCI
But if backpacks aren't your thing, don't fret. The Queen Margaret also comes in the form of a top handle stunner with a sling (shown above), as well as a smaller sling bag (known as the Broadway) that you can wear across the body.
Tags: leather Gucci Backpack Quilted QUEEN Margaret
comnum(0) tbcount(0) tbcount(606)
Categories:
Other Brands
It's completely jarring.

I can't quite scratch my head hard enough. And I find myself squinting over the selection. We love the Sylvie bag, the GG Marmont, the backpacks, sure. The appliqués are beautiful, and always interesting. Painted-on leather was daring and ground breaking. At that time it was such a refreshing break from all the ultra luxe silent sophistication that every brand's been producing. But as one scrolls through the many interesting offerings of Gucci, there's gotta be a show stopper. And it could either make you want to step back and go out for a breather, or perhaps draw you further in.
Recent new bag variations have popped up Gucci's world, in full jacquard or brocade fabric. It's a bit polarizing in my humble opinion. I can see others are going to love it, and I can see others who are going to be put off by it.
So let me invite you to look at the bags that make me squint and rub my eyes. What do you think about them? For me it's a bit overwhelming. Or am I the only one? Sound off in the comments.
Tags: bags Gucci And with Jacquard Explodes Brocade
comnum(0) tbcount(0) tbcount(431)
Categories:
Other Brands
Diamonds are a girl's best friend, but we accept pearls as well. After the Gucci Pearl Studded Padlock Bag and the Gucci Bow & Pearl Bag, the fashion house is going to maximize the 'Pearl' Embellishment on the latest GG Marmont Matelasse Bag.
When we say 'max', we literally mean 'max' – on every spot possible, Gucci has put a pearl on it. When slinging this on your shoulder, it's very notable and attractive. Your audience will be fascinated by the amount of shine these pearls give you.
The Gucci GG Marmont Matelasse Bag is the brand's latest 'hot' bag. It has been promoted heavily and the fashion world adores it. The Pearl edition is the newest version.
Designed with matelassé quilting, the oversized pearls are embellished on the front as well as the back. Besides that, the bag is also beautified with studs. And even the GG signature logo on the front flap is made with pearls, how fashionable can this bag be.
The chain is large and stealing the spotlight. Imagine carrying such boyish chain on your shoulder bags – the evening is all about you.
The interior features an open pocket for larger phones, the flap is created with a spring closure. Measuring 8.5' x 5' x 2.5' (W x H x D) inches, priced at $1790 USD, €1490 euro, £1210 GBP,
Tags: bag Gucci Pearl GG MARMONT Matelassé
comnum(0) tbcount(0) tbcount(410)
Categories:
Other Brands
Under Alessandro Michele's leadership, Gucci's aesthetic has been transformed into one of abundance. In just a few short seasons, he's rendered a remarkably vivid world in which embellishments and details are layered one on top of another, creating a depth of both texture and thought that has found immense appeal with both fashion tastemakers and shoppers around the globe. Michele continues this nascent tradition with Gucci Cruise 2017, which takes many of its aesthetic cues from animals.
Gucci is perhaps more well-known for incorporating elements of the natural world into high-end luxury than any other fashion brand; from the iconic Gucci Bamboo handles to the house's signature floral prints, the brand's aesthetic ideals have long gone far beyond the glossy cities where its wares are most often purchased and worn. For Cruise 2017, Michele expands on those ideas, adorning the collection's bags with everything from bees to Bengal tigers.
We teamed up with Gucci to explore the animals in the brand's Cruise 2017 collection, which is in stores now. Check out our exclusive photos of each of the animals below, along with other exquisitely details pieces from the collection, and shop the full selection now at Gucci.com.
1 / 8
BEES
The bee is the animal most often associated with Gucci's accessories details over the years, and for Cruise 2017 it makes a stunning handbag adornment for the Gucci Broadway Leather Clutch when rendered in pearl studs, red crystals and blue enamel over a distressed brass base. The bag itself is simple enough to let the bee detailing take center-stage, but the allover pearls studs and tricolor Sylvie web strap continue Michele's tradition of intricacy.Buy through Gucci for $2,980.
DETAIL: GUCCI SEQUIN GRAPHIC DRESS
2 / 8
BIRDS
Birds and their extravagant, colorful plumage make a natural source of visual inspiration for Gucci. This season, Alessandro Michele has combined elegant avian embroideries with the brand's classic, casual Gucci GG Supreme monogram fabric in the Gucci GG Supreme Top Handle Bag, which helps balance the formal feel of embroidery to create a bag that is as wearable as it is detailed. Buy through Gucci for $1,980.
3 / 8
SNAKES
King snakes have been a visual element of Alessandro Michele's Gucci collections from the very beginning, and the Gucci Snake Print Top Handle Bag puts one from and center in a painting-style print over durable textured leather. The snake's colors echo that of the red, white and blue Sylvie web strap, which is a take on Gucci's traditional webbing introduced by Michele. The unique, eye-catching snake print also juxtaposes well with the bag's simple, traditional structure. Buy through Gucci for $1,750.
GUCCI SNAKE PRINT LEATHER TOP HANDLE BAG
4 / 8
BENGAL TIGERS
Since his very first collection at the helm of the brand, layering prints over Gucci's traditional monogram fabric has been a staple of Michele's sophisticated, complex aesthetic. The layers provide aesthetic depth to everyday bags, and since they change by the season, they're a hallmark of the constant variation that feeds Gucci's enormous popularity. For Cruise 2017, Gucci offers an array of bags and accessories in this new Bengal print, and this little Gucci Padlock Bengal Bag is among our favorites. Its size makes it subtle, but the stylized tigers make a big impact. Buy through Gucci for $1,690.
5 / 8
GUCCI QUEERCORE BROGUE PUMP & GUCCI LEATHER LOW-TOP PLATFORM SNEAKER
6 / 8
7 / 8
GUCCI EMBROIDERED TARTAN WOOL SKIRT & DETAIL: GUCCI SNAKE PRINT LEATHER TOP HANDLE BAG
8 / 8
DETAILS: GUCCI QUEERCORE BROGUE PUMP
comnum(0) tbcount(0) tbcount(676)
Categories:
Other Brands
Cherries on your pumps? Yes please! But there is more going on than that…
The Gucci Bamboo Cherry Pumps are crafted with the House's iconic bamboo on the heels – such a fabulous addition can only be made by this Italian designer brand. The defining feature is on the toe, which is embellished with two three-dimensional cherries with encrusted crystals (Shine on!).
While the shape of the pumps are beautiful and the shoes itself comfortable, a heart motif can be found at the insole, sewn directly into the leather.
It's never wrong to invest in shoes and especially timeless-pairs. So get these, available in two different color; black and light blue, priced at $1100 USD, €890 euro, £725 GBP via Gucci boutiques.
Tags: Gucci pumps Bamboo CHERRY
comnum(0) tbcount(0) tbcount(437)
Categories:
Other Brands
Presenting the Gucci Padlock Bag. The Padlock Bag was introduced in 2015 for Gucci's Spring/Summer 2016 Collection. This is another Gucci hit from Creative Director Alessandro Michele. Even celebrities are a big fan of the Padlock, these includes Kris Jenner, Dakota Johnson, Elle Fanning and Tara Reid. It features a keylock closure which was inspired by the brand's iconic travel trunks. The Padlock Collection comes in a variety of bag styles such as shoulder bags, pouch and top handle bags. It is available in different materials and prints including GG Supreme Canvas, Gucci Signature Leather, Python, Embroidered and Studded Leather, as well as the Tian and the new Bengal prints.
Shoulder Bags and Pouch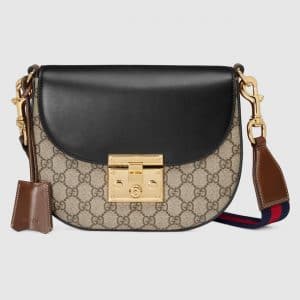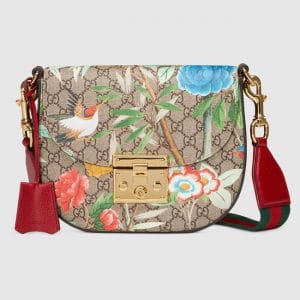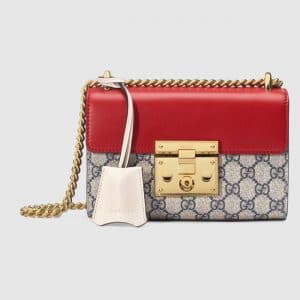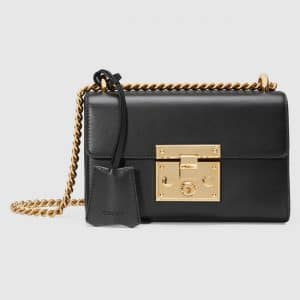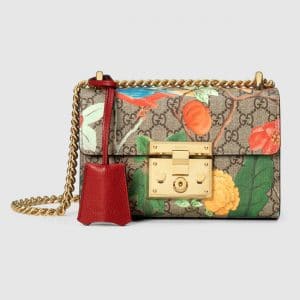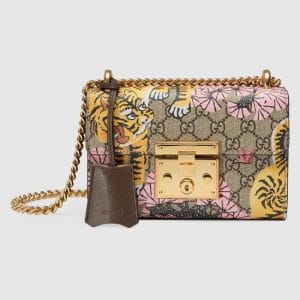 | Style | Price | Size |
| --- | --- | --- |
| Gucci GG Supreme Padlock Shoulder Bag | $1,890.00 (USD) | 10" W x 8" H x 3" D |
| Gucci GG Supreme Tian Padlock Shoulder Bag | $1,980.00 (USD) | |
| Gucci Leather and GG Supreme Padlock Small Shoulder Bag | $1,650.00 (USD) | 8" W x 5" H x 3" D |
| Gucci Leather Padlock Small Shoulder Bag | $1,690.00 (USD) | |
| Gucci GG Supreme Tian Padlock Small Shoulder Bag | $1,690.00 (USD) | |
| Gucci GG Supreme Bengal Print Padlock Small Shoulder Bag | $1,690.00 (USD) | |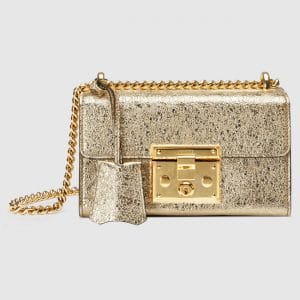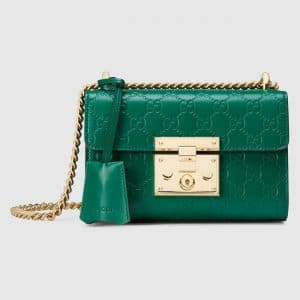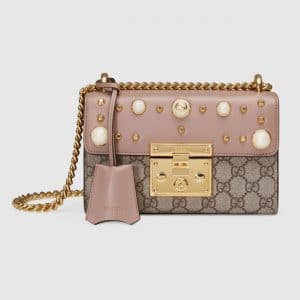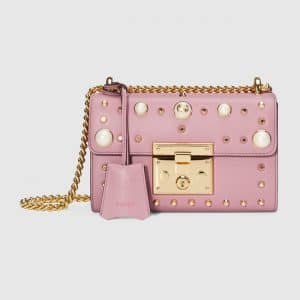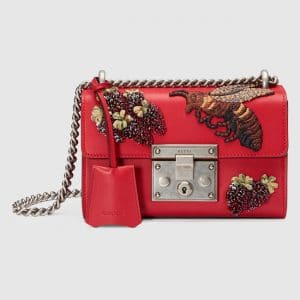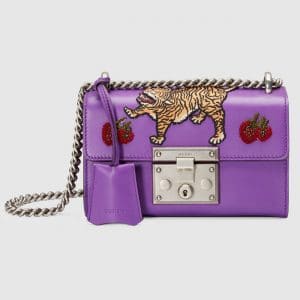 | Style | Price | Size |
| --- | --- | --- |
| Gucci Platinum Metallic Padlock Small Shoulder Bag | $1,750.00 (USD) | 8" W x 5" H x 3" D |
| Gucci Signature Padlock Small Shoulder Bag | $1,850.00 (USD) | |
| Gucci Studded Leather and GG Supreme Padlock Small Shoulder Bag | $1,980.00 (USD) | |
| Gucci Studded Leather Padlock Small Shoulder Bag | $2,230.00 (USD) | |
| Gucci Strawberry and Bee Embroidered Padlock Small Shoulder Bag | $2,690.00 (USD) | |
| Gucci Tiger and Strawberry Embroidered Padlock Small Shoulder Bag | $2,690.00 (USD) | |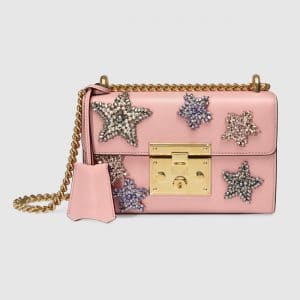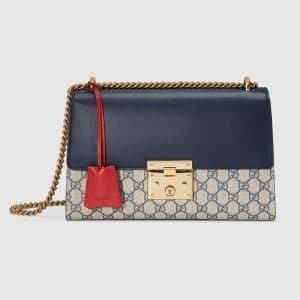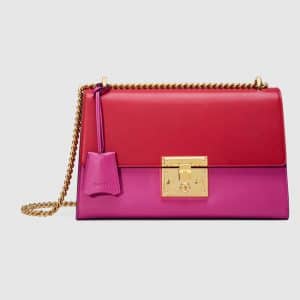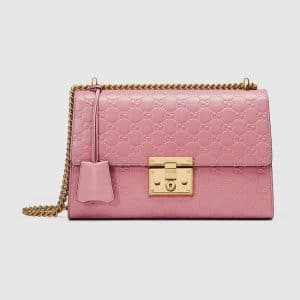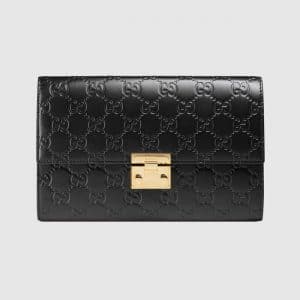 | Style | Price | Size |
| --- | --- | --- |
| Gucci Leather Star Embroidered Padlock Small Shoulder Bag | $2,890.00 (USD) | 8" W x 5" H x 3" D |
| Gucci Metallic Python Padlock Small Shoulder Bag | $2,850.00 (USD) | |
| Gucci Leather and GG Supreme Padlock Medium Shoulder Bag | $1,950.00 (USD) | 12" W x 7.5" H x 4" D |
| Gucci Leather Padlock Medium Bag | $2,190.00 (USD) | |
| Gucci Signature Padlock Medium Shoulder Bag | $2,290.00 (USD) | |
| Gucci Signature Padlock Pouch Bag | $1,200.00 (USD) | 8.5" W x 5.5" H x 1" D |
Top Handle Bags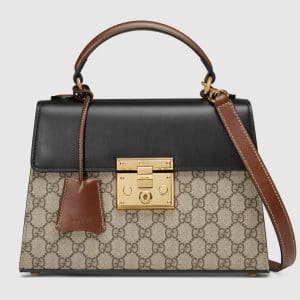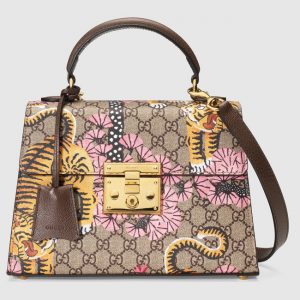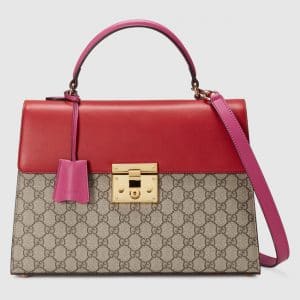 | Style | Price | Size |
| --- | --- | --- |
| Gucci Leather with GG Supreme Padlock Small Top Handle Bag | $1,980.00 (USD) | 11" W x 7.5" H x 4.5" D |
| Gucci GG Supreme Bengal Print Padlock Top Handle Bag | $2,090.00 (USD) | |
| Gucci Leather with GG Supreme Padlock Medium Top Handle Bag | $2,300.00 (USD) | 14" W x 10" H x 4.5" D |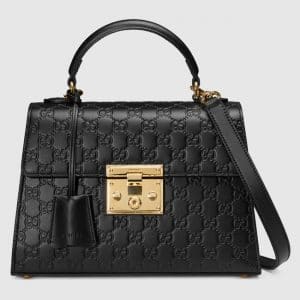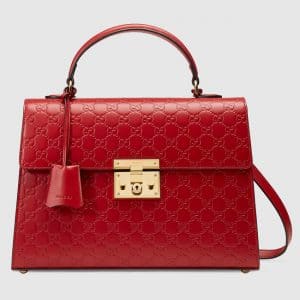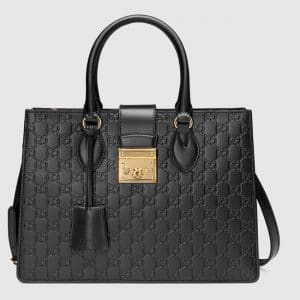 | Style | Price | Size |
| --- | --- | --- |
| Gucci Signature Padlock Medium Flap Top Handle Bag | $2,690.00 (USD) | 14" W x 10" H x 4" D |
| Gucci Signature Padlock Small Top Handle Bag | $3,190.00 (USD) | 13" W x 9" H x 4.5" D |
Categories

New Posts

Hot Posts

Tag Cloud